EURAXESS – Researchers in Motion is a one-stop shop for researchers and innovators seeking to advance their careers and personal development by moving to other countries. EURAXESS provides tailored information and support, free of charge, to researchers, entrepreneurs and research performing organisations. The unique web portal offers job, funding and hosting opportunities, career development guidance and free tools and much more. EURAXESS network counts 43 European countries and 9 worldwide hubs.
All of the services which EURAXESS provides are free of charge. If you are a young researcher looking to start your career or perhaps moving to another country and need support with housing or local social security, this platform is here to help you. At EURAXESS portal you can find thousands of job offers, funding opportunities and get free assistance when changing countries for work. Or are you a researcher looking to optimise your career? EURAXESS supports you through the process, whether it is about engaging with academia, Industry or Entrepreneurship, with the help of its career development centers, policy recommendations and training resources. Supporting the researchers mobility and career development is the main task of the EURAXESS.  Visit researchers page
EURAXESS portal has plenty of information available: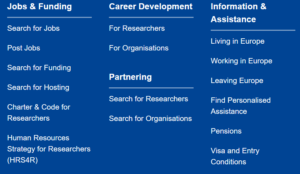 Take a look and join the EURAXESS at the portal!
Are you interested in learning more about EURAXESS and what it can do for you? Watch the presentation video!
Are you looking to optimise your research career? EURAXESS has valuable tools and resources to offer!
*All pictures and text are from the EURAXESS portal