A short disclaimer before I begin. Prior to my experience in Vaasa, I had a few international experiences before. I spent semesters abroad in Costa Rica and the Czech Republic when I was an undergraduate student. Then, after I graduated, I lived in Lithuania and Estonia for a combined three-and-a-half years. So, these three suggestions could have come as a result of my time in those countries. However, since I came to Finland with my family, these ideas are being tested in Vaasa in much different circumstances for success.
1. Be open to new experiences
Perhaps one of the scariest things for us as American parents is to allow our young child to venture off alone into an unknown environment for the first time. However, this was a reality that we faced at the beginning of school while taking our younger daughter to school via a Vaasa city bus. As we were accustomed to driving her to school, we started the year off by being overprotective and accompanying her to the bus stop, on the bus, and walking her to the school building. Then, we returned to meet her for the return trip home. After a couple of days, we noticed there were no other parents around.  The schoolchildren, both in her grade and younger, seemed to know exactly where they were going. When our daughter started to get a little embarrassed about our presence, we switched our approach and have only walked her to the bus stop every morning and let her come home on her own after school. As a result, she has matured to become more confident in her ability to operate around town independently, which has been very satisfying to see.
Another aspect of Finnish life is that the treatment of garbage and recycling resembles an art form. For garbage, we separate our trash into burnables, plastics, cartons, aluminum, glass, and biowaste! While some cities in the United States make efforts to achieve some separation of trash and recycling, our experience in Oklahoma has been that all recycling (plastic, glass, and cardboard only) is mixed together in the same bin.  Additionally, we must pay for the service to attempt to be more environmentally friendly. In terms of pollution in Finland, there seem to be many efforts to minimize the effect of transportation on the environment. For instance, the recent introduction of the Aurora Botnia ferry as an eco-friendly water travel option for the Vaasa-Umeå route provides one example. However, every trip we've made on trains in Finland has been accompanied by a notification on the train's data screen that the trip has a zero-carbon footprint. From a sustainability perspective, this is something for the US to work toward!
Finally, there's the question of reindeer meat. Do I eat it? Where does it come from? How is it cooked? What does it taste like? Coming from the US, the concept of eating reindeer is sometimes considered exotic, but also sacrilegious to some. Happy memories and children's Christmas songs come to mind when reindeer are typically mentioned. However, as reindeer are such a prominent component of some traditional Finnish cuisine, I decided to begin trying it whenever I have had the opportunity. I must report that I have had reindeer in the form of stew in Helsinki, steak in Tampere, and hamburger in Lapland. Some offerings of reindeer were quite tasty while others weren't to my taste. Those curious about how reindeer tastes might want to know that, in my opinion, medium rare reindeer meat seems most similar to a juicy cut of beef (not chicken!). However, others may think differently.
2. Integrate into local life
One way to begin experiencing local life is to participate in a local Finnish language class. While one cannot hope to become fluent in Finnish in a year, developing skills to communicate in the language can help at the store, sometimes on the bus, and elsewhere in town. By visiting the many local shops and stores, you can develop your own favorite daily routine. Ours has become visiting the local grocery store for coffee and pastries, after dropping our younger daughter off for the bus to school every morning.
A different approach relates to coming to campus and having lunch with colleagues to discuss life and research. Though COVID is still with us and this impacts our schedules somewhat, I have still found time during the pandemic to meet and dine with other faculty members every so often. We have spoken about many topics during our meals together, ranging from Vaasa's role in Finland's history to the development of new research projects in partnership with university research platforms. In all, they are pleasant discussions that allow the opportunity to develop a bit more camaraderie even in the present circumstances.
Then, taking part in the community can take another form: become the parent of an athlete! To be fair, our younger daughter did not spontaneously become one upon her arrival in Finland. She played volleyball for two years in the United States prior to coming to Vaasa. However, since she was spending so much time in her room and on her phone when we originally arrived in the summer, we decided it would be good for her to have an extracurricular activity. We gave her a choice and she landed on volleyball. So began my journey to become a Volleyball Dad in Finland. We take the bus to practices up to four times per week and – combined with the three periods of sport she has at school – our daughter is in the best shape of her life! In fact, I helped drive her team three hours each way to her first tournament in Finland just a few weeks ago. Even though a lot of the discussion about strategy and position in practice is in Finnish, the coach and her other teammates are very good about working with her so she understands what is happening. This cooperation showed in her performance during the recent tournament.
3. Expect the unexpected
Though planning has its many benefits, sometimes events conspire against the best-laid plans and adaptation is required. Such was our experience in Lapland. We travelled up north with hopes to specifically see the aurora borealis (the Northern Lights). However, for the night we had planned to go out into the Finnish forest with a guide, it was cloudy. Even though our main objective was not achieved, we still had a wonderful evening. The guide was very knowledgeable about Lapland and Finland in general. We heard about the different types of food and drink he brought along for us to taste – everything from reindeer sausage to glögi. He also told us about the different places from which his customers typically come and the many uses for birch trees. To say the least, he has had a very diverse clientele. In all, the experience was very memorable, we enjoyed our time, and now remember the experience when we smell burning birch wood.
A second noteworthy event related to our Christmas trip to Turku. We left for Vaasa on the morning of Christmas Eve just when a snowstorm started coming into town full force. In fact, I remember trekking through the accumulated snow on the sidewalk with our suitcase. On the way to Tampere, our train stopped for more than 30 minutes. Apparently, the train ahead of us had a mechanical failure and could only go very slowly. Once the other train stopped, its passengers transferred to our train. By this time, we knew we were going to miss our connection in Tampere. The conductor assured us that accommodations would be made to get us to Turku. However, we did not know what form they would take. In the US, (air) travelers are usually left to their own devices and expected to wait in line for a long time prior to any glimmer of a possible solution to be provided sometime in the distant future. We were shocked when we got off the train in Tampere and were immediately escorted to a waiting bus with the other travelers going to Turku. Our surprise was based on the remarkable level of service provided: we did not need to speak with a customer service agent to book a ticket on the next train, we did not have to wait in a long line, and we did not have to witness the frustration of other travelers. All of the arrangements were made for us and well communicated to us, so the move to the bus was seamless.
In conclusion, the most unexpected aspect of our time in Vaasa has been the smoothness of our arrival from the United States. The apartment we have is located near the city center, close to the train station, and is very suitable for our family of four. The help we have received from key people affiliated with the university and at our children's schools has made getting settled and all necessary documentation as straightforward as possible. The connections I have made with the faculty so far have been wonderful and I hope to continue to develop my professional relationships with these new friends. The interactions I have had with the many different students at the university have made my experience rewarding, as well. Taken together, our time in Vaasa has been more than a story of survival. In fact, it has been a story in which we have flourished and will be sorry to see end.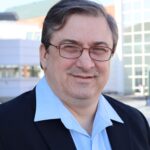 Brian Chabowski
Fulbright scholar
Professor of Marketing, University of Tulsa

Professor Brian Chabowski has published widely and received numerous awards for contributions to research and education development in the fields of marketing, management, entrepreneurship, and international business. He was granted a Fulbright scholarship in a partnership between the Fulbright Finland Foundation and the University of Vaasa for the 2021-2022 academic year in the International Business and Marketing Strategies Group of the School of Marketing and Communication. Brian earned his Bachelor's degree in History, Spanish, and International Studies (triple major) from Monmouth College (Illinois), his MBA in Marketing and Strategic Management Consulting (double major) and Finance (minor) from Indiana University, and his PhD from Michigan State University in Marketing (major) and International Business (minor). While at the University of Vaasa, his research has focused on international marketing and sustainability, especially aspects of environmental, social, and economic sustainability implementation specific to Finland that has international and global implications. When Dr. Chabowski arrives back in the United States, he will return to the Management, Marketing, and International Business Department in the Collins College of Business at the University of Tulsa (Oklahoma).