My name is Maria Refors Legge, I started to study law at Stockholm university in 2008 and then went on to become a PhD student in the spring of 2015. Last autumn on the 21st of October I successfully defended my thesis on the responsibility of Swedish schools to protect children against degrading treatment and discrimination (commonly known as bullying). After I finished my PhD studies I went on to become a junior lecturer in public- and educational law at Uppsala university. At the moment, I'm employed by the Swedish Agency for Defense Research (Totalförsvarets forskningsinstitut) (FOI) as a legal scientist researcher and between August and December, I will be employed by the University of Vaasa as well.
Despite growing up and living in Sweden my whole life, this is my first time in Finland proper. I've been to Åland twice in my youth for floorball training camps when I was a teen, but back then I never made it far from the gymnasium where we trained and I've never been to mainland Finland so naturally, I'm really happy to finally be here!
The Finnish schools and the Finnish education system are a source of constant envy in Sweden so I am very curious to come and experience a Finnish university setting myself and to meet Finnish university students during the autumn. During my stay as a visiting scholar, I will teach some courses at the master's and bachelor's levels about Human rights law, children's rights law and EU law which will be very interesting and a good way for me to develop as a teacher. The main focus for my stay however is not the teaching but doing research on national security law, election law and human rights. I will do this in collaboration with Joonas Widlund who is a doctoral student at the School of Management, Public Law at the University of Vaasa and whose research touches on these subjects, especially constitutional law, national security issues and human rights.
On the 24th of September, the Swedes will go to the election stands and cast their vote in the national, regional and municipal elections. The propaganda has been going on for some time and one of the hot topics during the 2022 election has been Sweden's National Security, hostile foreign actors, domestic threats, natural disasters and other crises. This is not so strange considering the Russian invasion of Ukraine, the Chinese hostilities towards Taiwan, the corona pandemic and the climate change crisis with its extreme weather, forest fires, floods and droughts.
Against the backdrop of these challenges, I am going to spend my time in Vaasa doing research on disinformation campaigns or efforts to sway the outcome of Swedish elections. Together with Joonas, I will compare the Swedish and Finnish legal safety nets that prevent the involvement of hostile foreign and domestic actors whose goal is to interfere with the election process or the election results. We will also look at the thin line between protecting democracy and limiting democracy by (for instance) cracking down on free speech, religion and the freedom of information.
The tradition of Swedish and Finnish cooperation on defense issues has a long tradition and I think it is very important that we continue on that path in the future and that we learn from each other. When democracy is threatened we need to work together.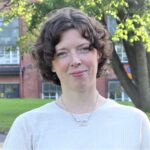 Maria Refors Legge, LL.M.
Postdoctoral researcher in Public Law, University of Vaasa (visiting scholar between August–December 2022)
Researcher, Swedish Defence Research Agency (Totalförsvarets forskningsinstitut)